Follow the weight of your hives remotely with our connected scale!
Detection of honeys, condition of reserves, health of your colonies, Weather. Reduce your travel and optimize your production!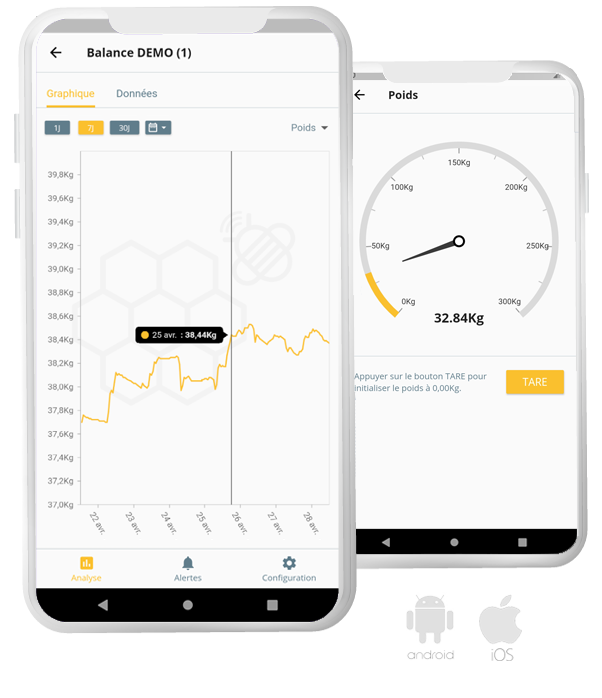 Connected scale
Dual-connect
The connected beehive scale "Dual-Connect" will give you all the information you need to monitor your hives remotely. Honeyflow detection, reserve status, colony health, theft or looting alerts, local weather. You can access the data remotely from your computer or smartphone. Each scale is supplied with two 1.5V batteries and one external magnetic antenna.
Very simple to install and use beekeeping scale, sturdy, reliable, weather-resistant.

Dual connectivity to access data remotely and locally. View the data from your hives from home on PC & Smartphone.

Weight measurement every hour (Accuracy +/-10g)

Battery life: 1 year (2 XA 1.5V Alkaline Batteries)
Monitor hive data
From home on PC & Smartphone
Track the weight of your hives in real-time using our web interface or by using the mobile app compatible with Android and iOS. Receive email alerts, push notifications, or SMS alerts in case of alerts on your apiaries.
Your data available everywhere (PC and smartphone)

Real-time data on local connection

Detailed weight/temperature charts

Comparison between several scale

Alerts by SMS, MAIL or push notifications (Weight, temperature, motion and shock)

Share your data by creating user accounts

Download data in CSV format (Excel)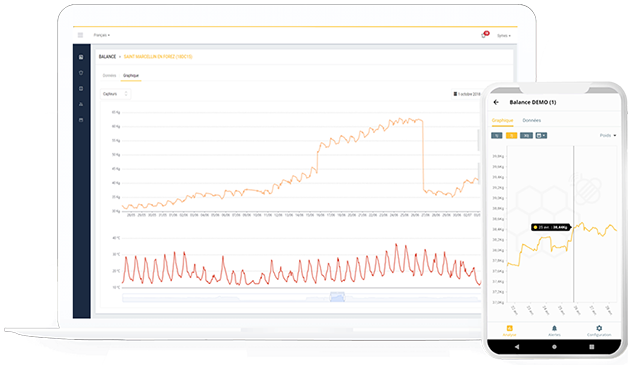 Honeyinstruments app
Track the weight of your hives everywhere
Access all the information and configuration of your connected hives directly from your smartphone. You will be alerted directly by notification in case of alerts on your apiaries.