Follow the weight of your hives remotely with our connected scale!
Honeyflow detection, reserve status, colony health, weather. Reduce your trips and optimize your production!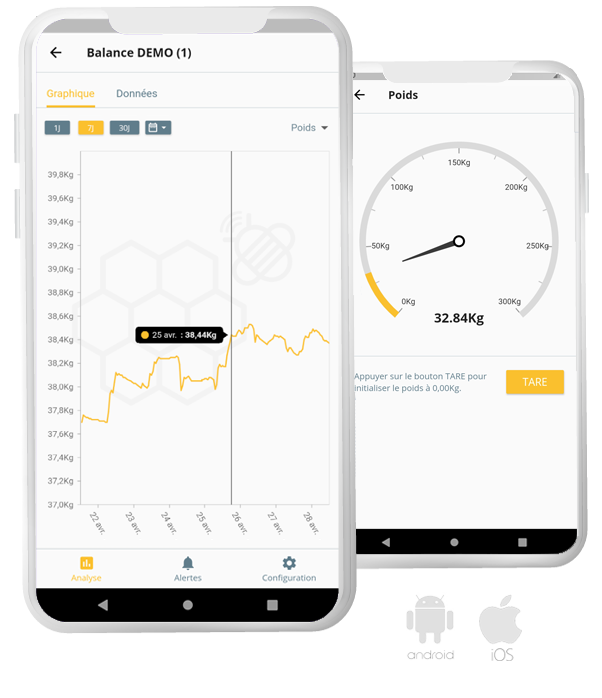 Connected scale
Dual-connect
The 'Dual-Connect' connected beehive scale will provide you with all the necessary information to remotely monitor your beehives. It detects honey flows, checks the status of reserves, monitors the health of your colonies, sends alerts in case of theft or pillaging, and provides local weather data. You can access this information remotely from your computer or smartphone.
Very simple to install and use beekeeping scale, sturdy, reliable, weather-resistant.

Weight measurement every hour (Accuracy +/-10g)
Brood Sensor
Temperature & Humidity of Brood
Closely monitor the living conditions of your colonies, ensure their comfort and well-being. Our innovative sensor allows you to delve into the heart of your beehive by accurately measuring the temperature and humidity inside the hive.
Measures the temperature and humidity of the brood

Remote Data Transmission (1 Message/Hour)

Colony Health and Queen Activity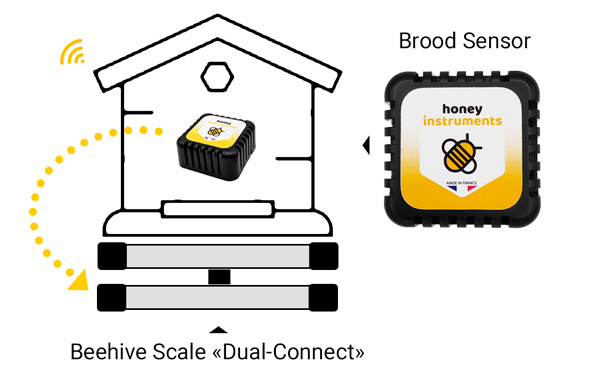 Monitor hive data remotely
From home on PC & Smartphone
Monitor the weight of your beehives in real-time through our user-friendly web interface or by using our mobile application compatible with Android and iOS. Stay informed by receiving email alerts, push notifications, or SMS in case of issues in your apiaries.
Your data available everywhere (PC and smartphone)

Real-time data on local connection

Detailed weight/temperature charts

Comparison between several scale

Alerts by SMS, MAIL or push notifications (Weight, temperature, motion and shock)

Share your data by creating user accounts

Download data in CSV format (Excel)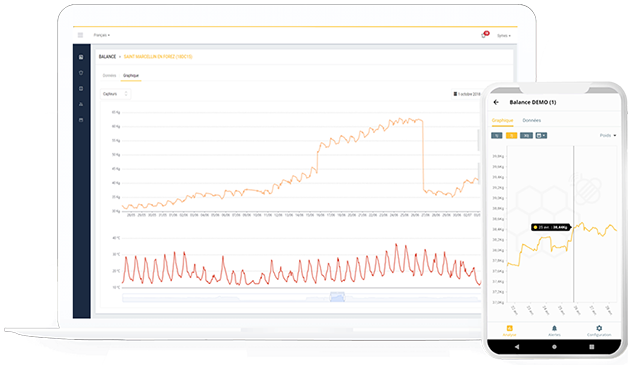 Honeyinstruments app
Track the weight of your hives everywhere
Access all the information and configuration of your connected hives directly from your smartphone. You will be alerted directly by notification in case of alerts on your apiaries.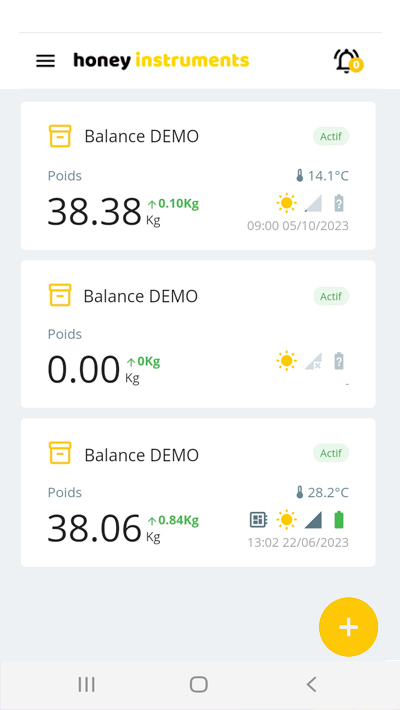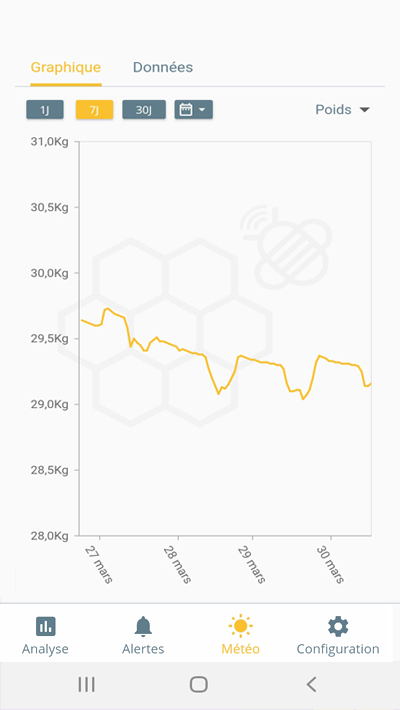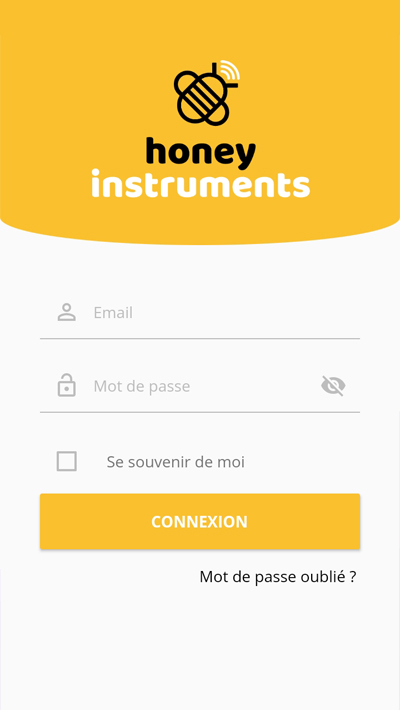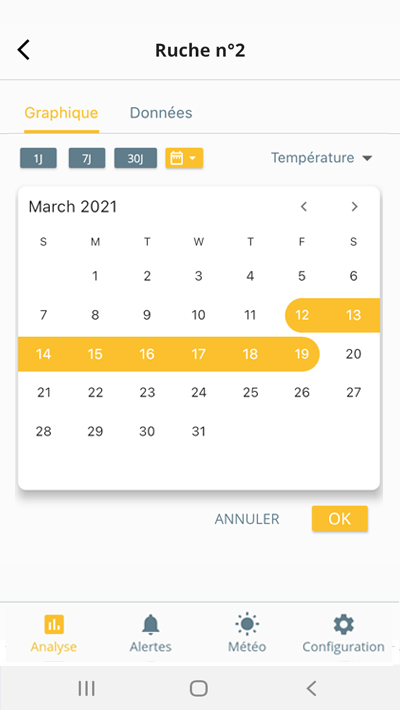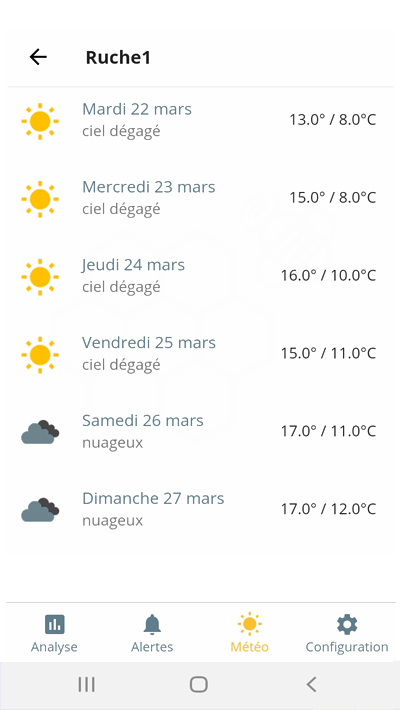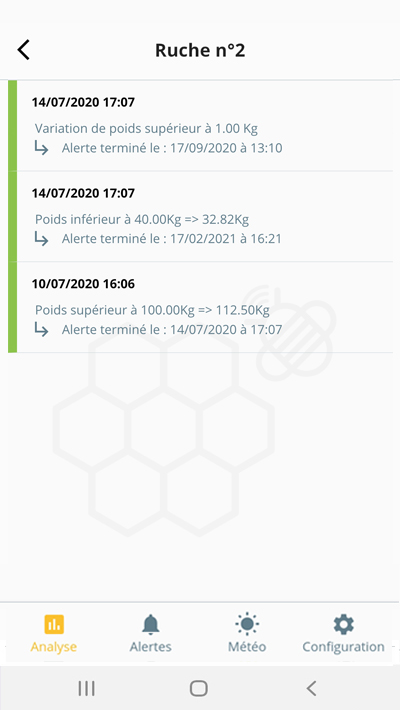 Customers reviews
This scale is fantastic! I can remotely monitor the hive's weight (no need to open it during the honey flow to know when to add or remove a super). Advantages compared to other scale brands: the smartphone application and personalized weight alerts. The scale is super easy to install and use. It's worth the investment, and the connected scale is an extraordinary tool and progress for managing my apiary.
User of several scales for a few years. A robust product of very good quality. We have a project to add more scales. A very responsive customer service attentive to its clients! Very satisfied, I recommend it.
The best-connected scale in my opinion, albeit with a high price, but it's quality. I manage to get a signal even in isolated apiaries. In case of technical issues, customer service is super responsive. I appreciate that it's a French product and the reliability of this company. Let's not forget that we provide GPS points with the scales... Personally, I trust them wholeheartedly. Thank you and long live!
I bought two scales in November 2022 at the Quimper (France) fair, and they are perfect. It allows easy monitoring of hive weights directly on my phone. They also send us the external temperature at the base of the hives.
Durable and well-thought-out design for the scale. Quality customer service, responsive and attentive to both professionals and passionate enthusiasts. Mobile interface and web application with essential functions. I recommend this product to everyone. Bravo for the Made in France!
I had to deal with customer service, they are very responsive and efficient. The electronic card was defective, they replaced it, and it's back in operation. Nothing to complain about!
Completely satisfied with my scale and the received data; customer service is responsive. However, the hive tends to slide a bit on the scale, requiring attention during intervention, and there have been some network losses with Sigfox.
Scale really easy to configure and install. It's the 4th scale I've bought. Very good product, I recommend it.
Tested on our farm for over a year. Reliable and cost-effective scale. The Sigfox radio connection is a bonus in mountainous areas not covered by the telephone network used by other scale models.
I purchased a scale 2 months ago and am very satisfied with this choice. I installed it in a medium mountain zone and had no connection issues to the network. The data is transmitted regularly, and it's great. I was able to track the entire honey flow period, its end, and harvest at the right time.
Use of the scale over a full year. Nothing to say about the operation except for a few transmissions that don't go through. Probably due to the antenna, which is positioned on the box below at the back of the hive. The website interface is nice and easy to use, whether on a computer, tablet, or smartphone.