Follow the weight of your hives remotely with our connected scale!
Detection of honeys, condition of reserves, health of your colonies, Weather. Reduce your travel and optimize your production!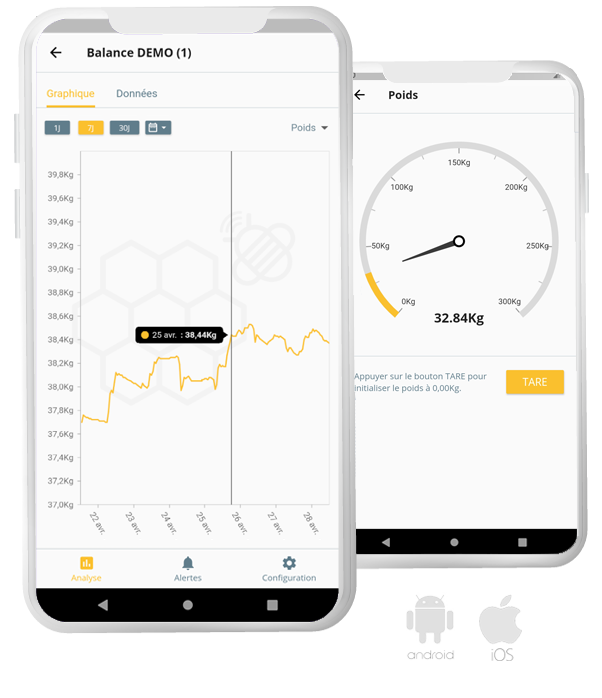 Connected scale
Dual-connect
The Dual-Connect Hive Scale will give you all the information you need to track your hives remotely. Detection of honeys, state of reserves, health of your colonies, flight or looting alerts, local weather. Your data can be accessed remotely or locally from your smartphone. Each scale is supplied with two 1.5V batteries and one external magnetic antenna.
Very simple to install and use

Remote connection with sigfox it offers a communication service in remote areas or locally (near the scale) with a smartphone

Weight measurement every hour or in real time with local connection (Accuracy +/-10g)

Battery life: 1 year (2 XA 1.5V Alkaline Batteries)
Monitor hive data
From home on PC & Smartphone
Track the weight of your hives in real time via our web interface, or using the compatible Android and iOS mobile app. Receive email alerts, push notifications or text messages in case of alerts on your apiaries.
Your data available everywhere (PC and smartphone)

Real-time data on local connection

Detailed weight/temperature charts

Comparison between several scale

Alerts by SMS, MAIL or push notifications (Weight, temperature, motion and shock)

Share your data by creating user accounts

Download data in CSV format (Excel)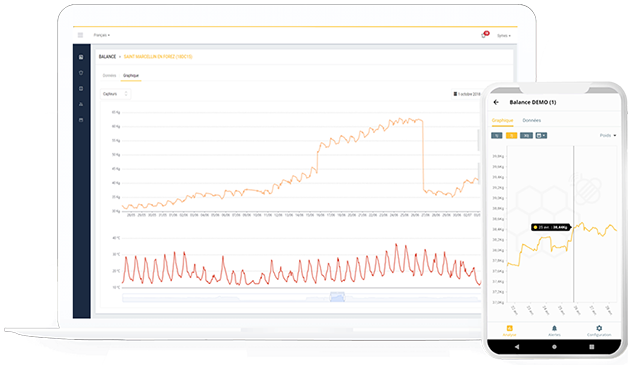 Honeyinstruments app
Track the weight of your hives everywhere
Access all the information and configuration of your connected hives directly from your smartphone. You will be alerted directly by notification in case of alerts on your apiaries.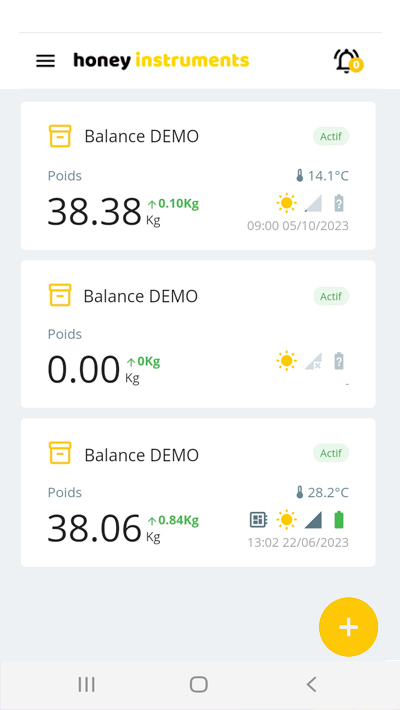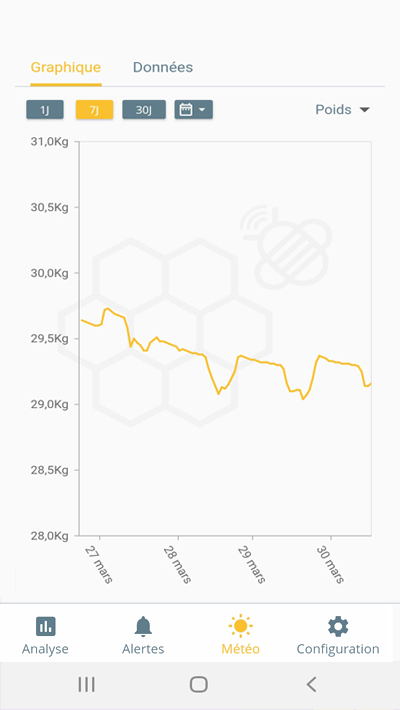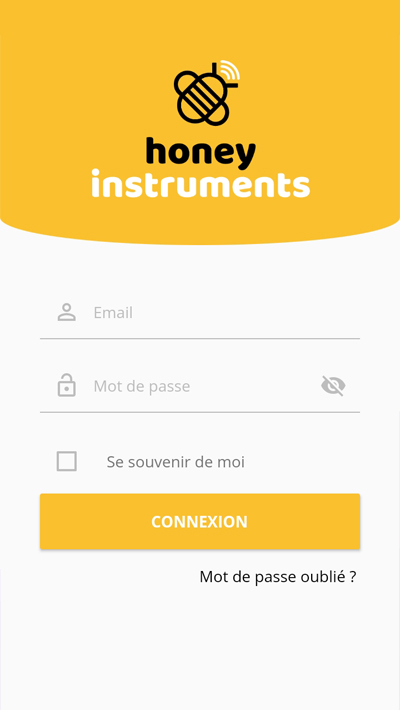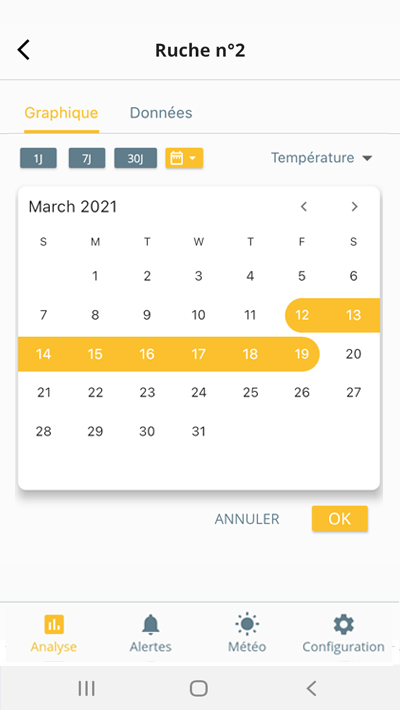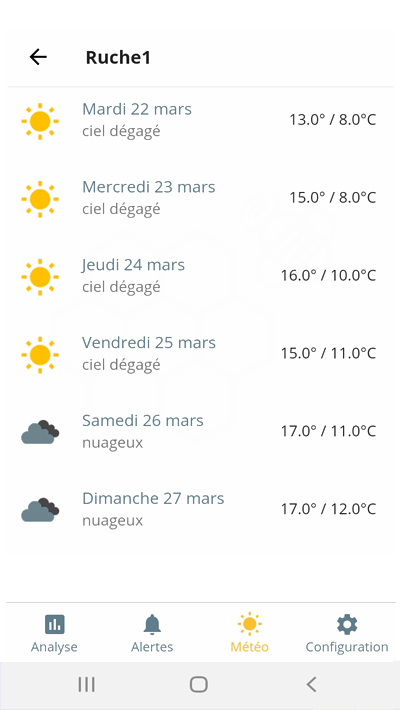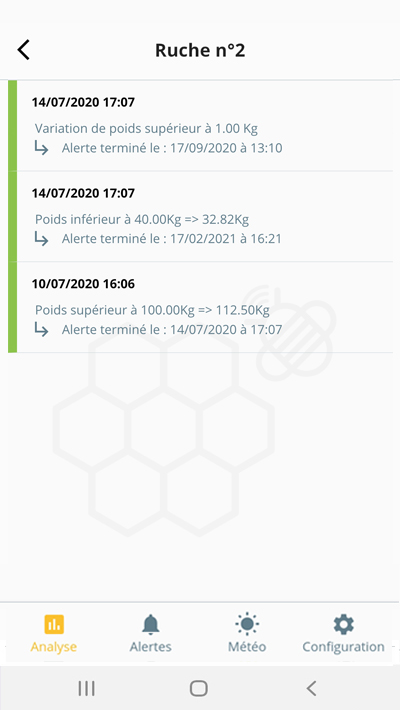 Customers reviews
Tested on our farm for over a year. Reliable and economical scale. The Sigfox radio link is a plus in mountain areas not covered by the telephone network used by other models of scales.
I acquired a balance 2 months ago and am very satisfied with this choice. I installed it in a mid-mountain area and had no problem connecting to the network. The data is transmitted regularly and it's great. I was able to spot the whole period of honey flow, the end and harvest at the right time.
Use of the scale over a full year. Nothing to say on the operation except some transmissions which do not pass. Certainly due to the antenna which is positioned on the box below the back of the hive. The site's interface is nice and easy to use whether on a PC, tablet or smartphone.
Stay in touch with your bees with the Honey Instruments connected hive !
From minimizing unnecessary interactions with bees and ensuring greater tranquility for honey production, to improving the beekeeper's daily lives by reducing travel and handling while keeping an attentive eye on his bees, The connected hive revolutionizes the way beekeeping is viewed.
Honey Instruments lets you transform the work of your hives with our connected scale system that lets you view in real time, without having to move around, the quality of life of your bees, estimate of the quantity of honey produced and the health of your colonies or weather data in the environment of your apiary.
The benefits of using Honey Instruments Connected Hives!
The different precision sensors that are integrated into our connected scale alert you in real time to the conditions and activity around and in each of your hives. Being able to track your hives remotely has many advantages:
Thanks to the data transmitted by our connected hive system, you have the possibility to accurately monitor the flow of the honeys, the intensity of production or to understand with more reactivity the periods of scarcity.
The ability of the Honey Instruments Connected Scale to weigh your hive gives you valuable weight information allowing you to know the state of the reserves, the production level by reliable results, The European Union is committed to this.
Monitoring the behaviour of your hives and bees on an ongoing basis keeps an eye on colony health and significantly reduces over-mortality within the hive by optimizing your responsiveness.
Finally, the sensors on our connected scale alert you to the detection of movements that are more brutal than normal, often signs of attempted theft or looting of honey.
Honey Instruments' connected hive, how does it work?
A range of weight measurements from 0 to 300 kilograms, with an hourly data transmission frequency, a resolution of the weighing measurement of plus or minus 10 grams, a system completely waterproof to weather resistant and a size adaptable to different traditional formats Beehives and an operating autonomy of one year... This is how the Honey Instruments system transforms the way any professional beekeeper works.

Being able to collect all the information about the living conditions of your hives allows you to limit your movements and to save a lot of time. Not to mention that you avoid disturbing your bees unnecessarily, a fact that often results in better productivity thanks to the limitation of stress and a perfect health of the colony.
Why choose Honey Instruments to equip your hives with a remote control system?
Two selection criteria should make you prefer the Honey Instruments Connected Beehive Balance to any other device.

Our equipment uses the SIGFOX remote connection network, which allows to send the collected information even in rural areas where the GPRS signal does not usually pass. Whether your hives are located in the mountains, in a hilly landscape, on the plains, in the cold or in high temperatures, you are guaranteed to receive your data.

Honey Instruments is a French company that guarantees you remote hive monitoring systems entirely manufactured in the territory. This is the assurance of quality equipment and greater responsiveness to the expectations of beekeeping professionals.