Track the weight of your hives remotely with our connected scale !
Reduce your trips and maximize your production
Order your scale
Connected scale
Our hive scale sends one message per hour including the weight of the hive as well as the ambient air temperature.
Monitor the weight of your hives in real time

Detect your honeydew departures - Weight variation over 24 hours

Assess the health of your colonies

Theft or looting alerts

Your data accessible everywhere

Satisfied or refunded 30 days
Web interface
Track the weight of your hives by logging on to our website, receiving email reports (periodic or on alerts), receiving SMS alerts, or using our Android app
Secure connection

Global visualization of all scales

Weight / temperature curves detailed by scale

Configuration reports and alerts

Configurable SMS alerts

Share your data by creating user accounts

Download data in CSV format (Excel)

Available languages : French / English / Finnish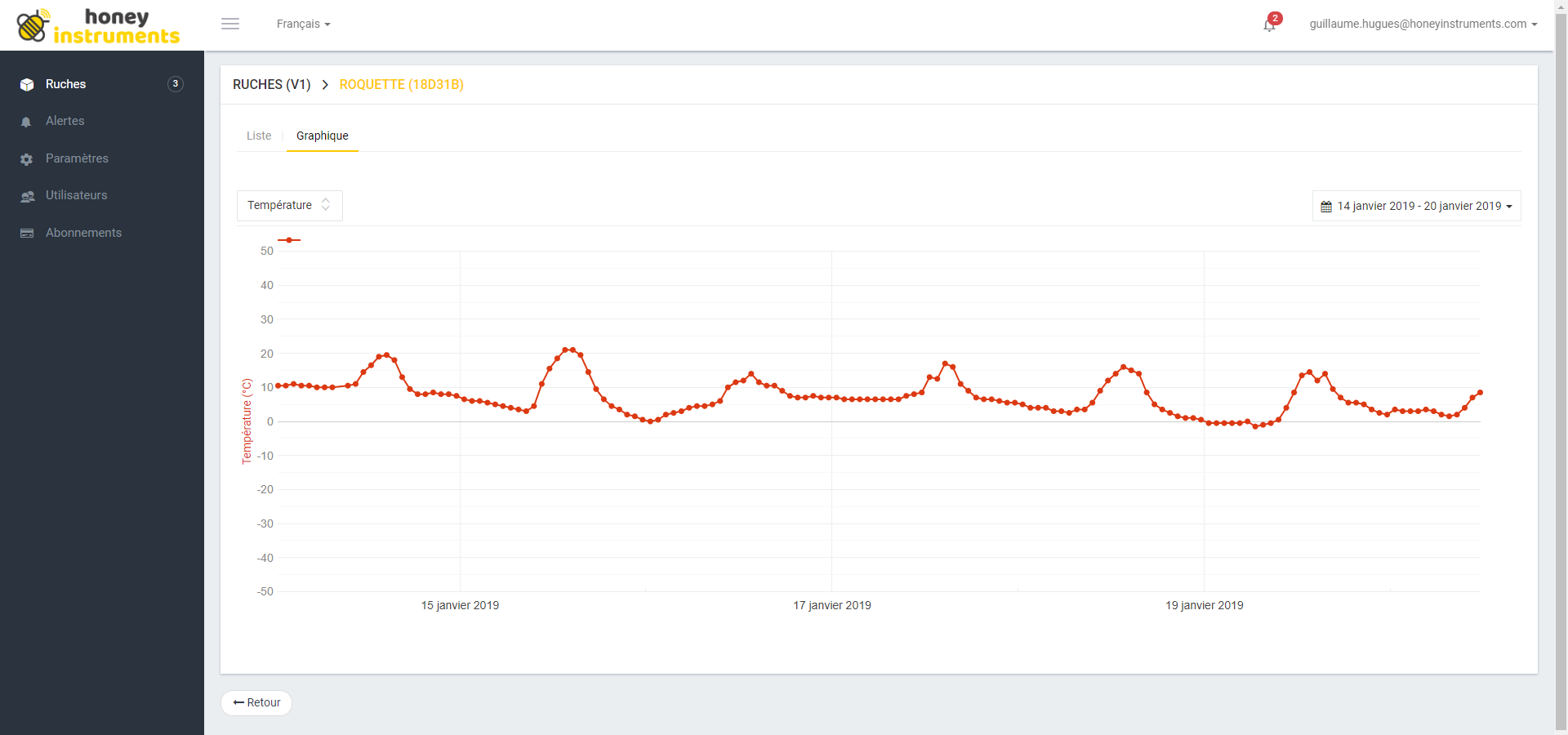 The first year of subscription is free !
Buy a scale and test it without paying any subscription and without commitment for 1 year
Secure payment
1 to 4 scales
3

€ HT


/month/scale
5 to 9 scales
2.5

€ HT


/month/scale
10+ scales
2

€ HT


/month/scale
2.5Millions
SIGFOX messages
Tested on our farm for over a year. Reliable and economical scale. The Sigfox radio link is a plus in mountain areas not covered by the telephone network used by other models of scales.
Use of the balance over a full year. Nothing to say about the operation except some transmissions which do not pass. Certainly due to the antenna which is positioned on the case below at the rear of the hive. The interface of the site is nice and easy to use whether on a computer, tablet or smartphone.
I have acquired a balance for 2 months and am very satisfied with this choice. I installed it in the middle mountain area and had no problem connecting to the network. The data is transmitted regularly and it's great. I was able to spot the entire honey period, the end and harvest at the right time.
Contact us!
Technical and commercial information
Product reviews and remarks
After sales service
tWe generally respond within 24 hours.

contact@honeyinstruments.com
---