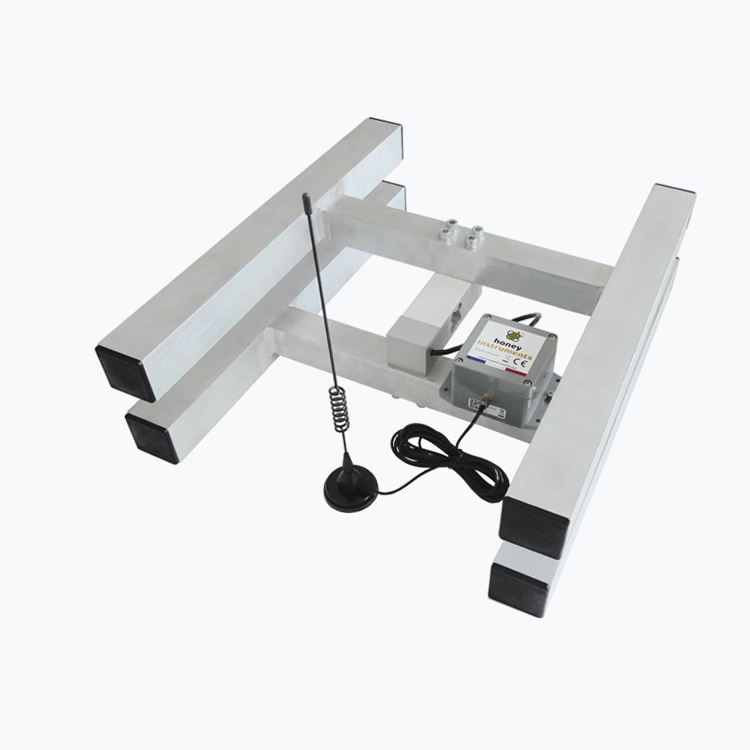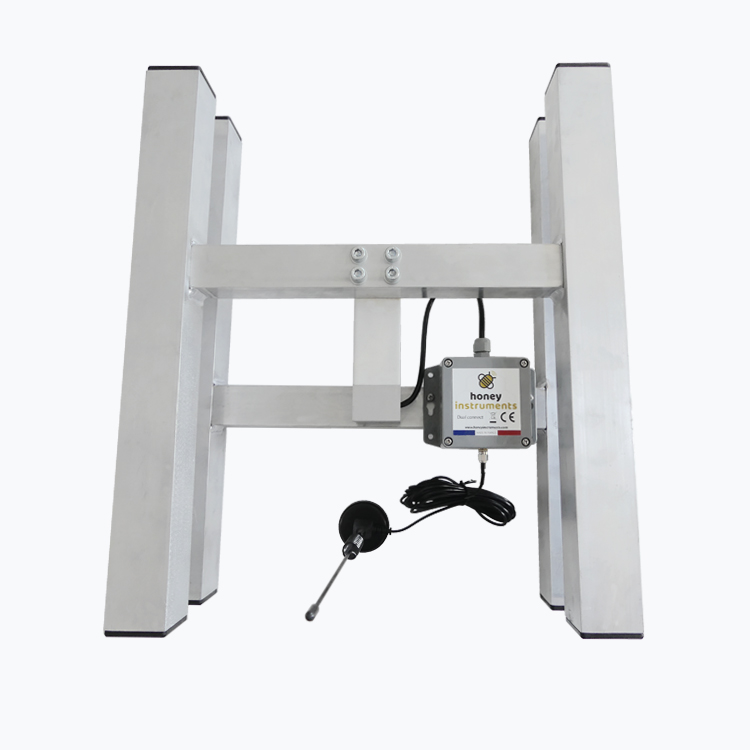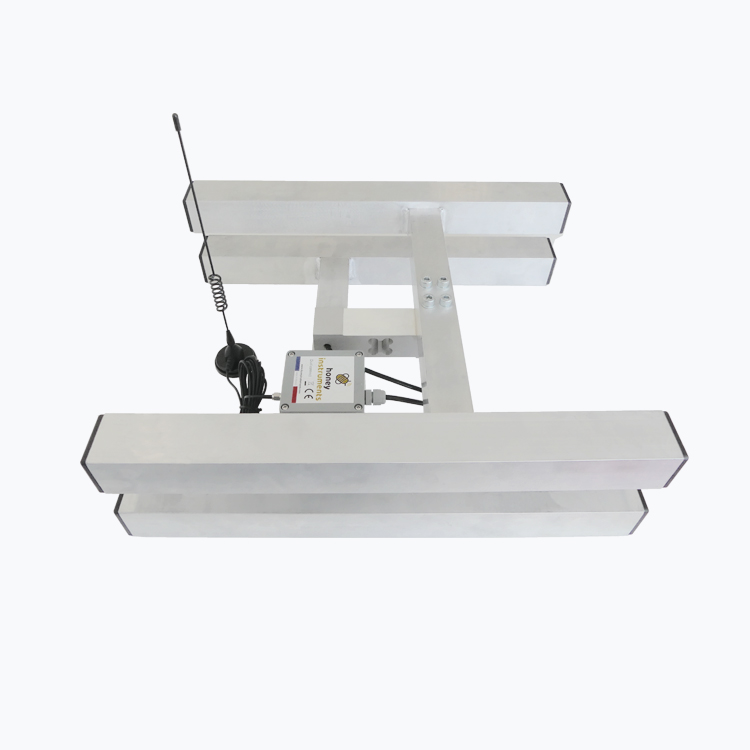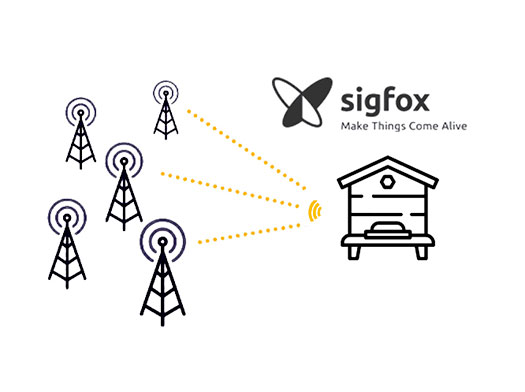 Network coverage
We tested this scale for several months to ensure that the SIGFOX network covers the French territory. In the plains, in the mountains, in negative temperatures or rainy weather, in areas where the GPRS signal does not pass, in all these configurations the SIGFOX network has made it possible to send the necessary information.
Check your network coverage
Data Analysis
The cloud platform allows you to analyze data from your hives from home 24/7
Weight (10g)

Temperature

Comparison between scales

Alert Management

7-day weather forecast

Alert Mail, SMS, Push

Export (csv)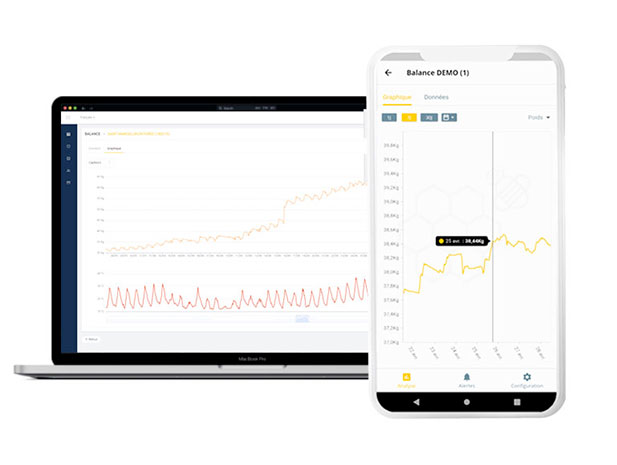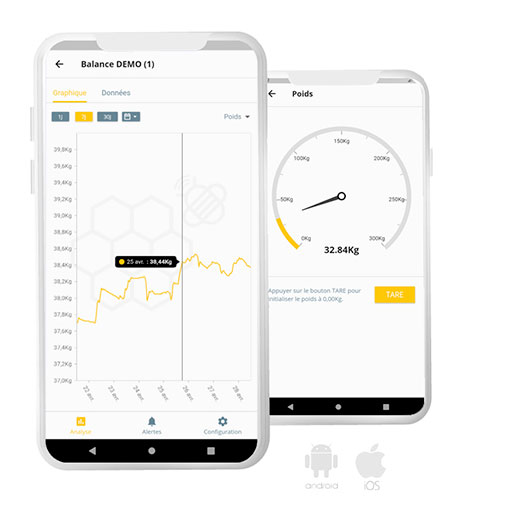 Mobile app
Visualize in real time the data of your hives thanks to the mobile application, receive push notifications on alerts of variations in weight, temperature or shock. the application is compatible with Androis and iOs
scale sheet
| | |
| --- | --- |
| Network | SIGFOX |
| Message Frequency (remote connection) | 1 message / hour |
| Message Frequency (Local connection) | Temps réel |
| Autonomy | 1 year |
| Power | 2 XA 1.5V Alkaline Batteries |
| Magnetic antenna | Yes |
| Weight measurement range | 0kg-300kg |
| Sensor failure | 450kg |
| Balance dimensions | 50cm x 43cm x 14cm |
| Chassis material | Aluminium |
| Hardware | INOX |
| Weight of the scale | 6.9kg |
| Waterproof | Oui (IP65) |
| Resolving the weight measurement | +/- 10g |
Guarantee
The warranty period is 24 months from the date of delivery. Any deterioration due to compliance with the use requirements shall be excluded from the guarantee
Offered the first year!
The one-year subscription to sigfox low-power networks is included in the price. Beyond this period, access to this service costs 3 € / month (Without subscription). The price is degressive according to the number of scales you own.
For the V2 scale "Dual-connect" the sigfox subscription is required to receive the data remotely, the local connection is independent of the sigfox network.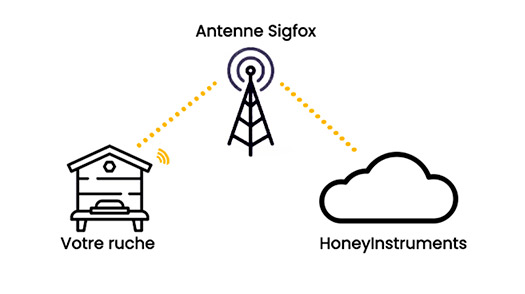 1 to 4 scales
3

€ HT


/month/scale
5 to 9 scales
2.5

€ HT


/month/scale
10+ scales
2

€ HT


/month/scale
I acquired a balance 2 months ago and am very satisfied with this choice. I installed it in a mid-mountain area and had no problem connecting to the network. The data is transmitted regularly and it's great. I was able to spot the whole period of honey flow, the end and harvest at the right time.
Use of the scale over a full year. Nothing to say on the operation except some transmissions which do not pass. Certainly due to the antenna which is positioned on the box below the back of the hive. The site's interface is nice and easy to use whether on a PC, tablet or smartphone.
Tested on our farm for over a year. Reliable and economical scale. The Sigfox radio link is a plus in mountain areas not covered by the telephone network used by other models of scales.